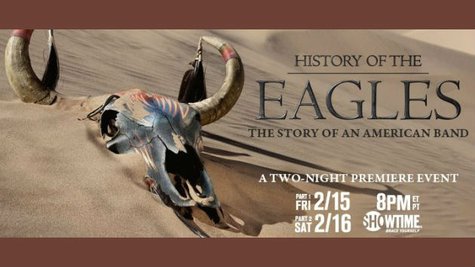 On Friday and Saturday night, Showtime will premiere History of the Eagles , the story of the legendary band told in two nights, over a total of three hours. Don Henley and Glenn Frey spoke recently about the movie with The New York Times , sharing their motivations for wanting such a revealing look at the group captured on film.
"Since we survived, we decided that, after 40 years or so, it was worth keeping some kind of record," noted Henley. "I'm going to have some explaining to do to my children."
Frey said that when he and Henley first met with producer Alex Gibney and director Alison Ellwood , the band mates insisted that the project give a truthful depiction of the Eagles' history, regardless whether it cast them in a negative light.
"We said, 'Talk to everybody,'" noted Frey. "'Let's unearth as much stuff as we can and tell the story.'"
Henley added that he and Frey even encouraged the filmmakers to interview The Eagles' former members, "who don't necessarily have warm and fuzzy feelings toward us."
Regarding the departure of certain members of the lineup, Frey declared, "The ride wasn't for everybody. Some people stayed on the bus longer."
Henley, meanwhile, explained that after founding members Bernie Leadon and Randy Meisner left the Eagles in 1975 and '77, respectively, he and Frey realized that the group could survive such changes "because the band was built around songs -- not around personalities, not around a front man, but the music."
A segment of the second part of History of the Eagles deals with guitarist Joe Walsh struggles with drug abuse. Frey and Henley both suggest that when the Eagles got back together in the 1990s, it helped motivate the rocker to become sober. As Henley points out, "It was conditional to him joining us for the reunion and it gave him a reason, I think, to clean up his act."
So, with the documentary about to get its TV debut and the Eagles preparing to mount a 40th anniversary tour later this year, could a new album also be in the group's future? Frey tells The Times that nothing has been decided yet on that front. He explained, "The band's going to start thinking about coming back together, and talk about whether everybody wants to uproot themselves from their lives and try to make a record, with all that involves."
History of the Eagles: The Story of an American Band airs at 8 p.m. ET on both Friday and Saturday. Part one is two hours long while part two runs for one hour.
Copyright 2013 ABC News Radio