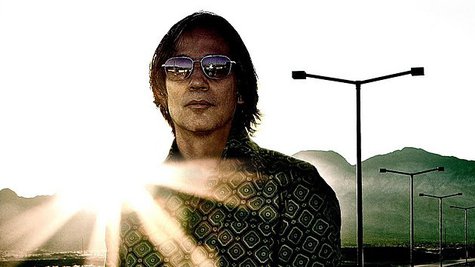 Jackson Browne 's winter acoustic tour is set to wind down Saturday in Reno, Nevada, but the folk-rock great has begun lining up more shows for later this year, including a just-announced summer trek . The singer/songwriter's new itinerary kicks off with a pair of concerts opening for Jimmy Buffett . These gigs are scheduled for May 2 at the Tower Amphitheater in Austin, Texas, and May 4 at FC Dallas Stadium in Dallas.
Next up for Browne will be a May 11 appearance at the BottleRock Napa Valley Festival in Napa, California. The musical extravaganza, which runs from May 9 through May 12, also will include performances from Furthur -- featuring The Grateful Dead 's Phil Lesh and Bob Weir -- The Black Crowes , Joan Jett and the Blackhearts and many other big-name acts.
Then comes Browne's summer tour, which is scheduled to run from a June 19 stop in Salt Lake City through a July 5-6 engagement in Atlantic City, New Jersey. Jackson's 2012 tour mate Sara Watkins will be the supporting act at almost all of his shows in June and July.
Here are all of Browne's upcoming U.S. tour dates; *Sara Watkins opens:
2/15 -- Las Vegas, NV, The Pearl Theater
2/16 -- Reno, NV, Silver Legacy Casino
5/2 -- Austin, TX, Tower Amphitheater (with Jimmy Buffett)
5/4 -- Dallas, TX, FC Dallas Stadium (with Jimmy Buffett)
5/11 -- Napa, CA, Bottle Rock Napa Valley Festival
*6/19 -- Salt Lake City, UT, Red Butte Garden
*6/21 -- Aspen, CO, Jazz Aspen Snomass
*6/23 -- Telluride, CO, Telluride Bluegrass Festival
*6/25 -- Des Moines, IA, Civic Center of Greater Des Moines
*6/26 -- Chicago, IL, Ravinia
*6/28 -- Columbus, OH, Palace Theater
*7/1 -- Lancaster, PA, American Musical Theater
*7/2 -- New Brunswick, NJ, State Theater
*7/4 -- Lenox, MA, Tanglewood
*7/5 -- Atlantic City, NJ, Borgata
7/6 -- Atlantic City, NJ, Borgata
Copyright 2013 ABC News Radio