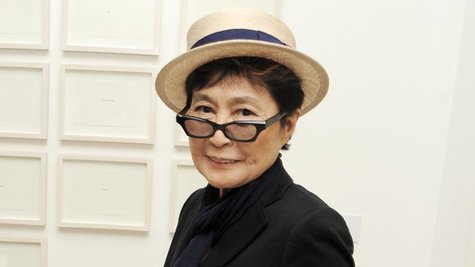 Sunday marks the 80th birthday of John Lennon 's widow, Yoko Ono . While many Beatles fans have long blamed Ono for being at least partly responsible for the band's breakup, Paul McCartney himself came to her defense in a recent TV interview . Said Sir Paul, "[Yoko] certainly didn't break the group up, the group was breaking up," adding that he didn't think Lennon "would have done ['Imagine'] without Yoko, so I don't think you can blame her for anything."
For more than a decade, Ono served as Lennon's muse and collaborator, and she was the mother of the younger of his two sons, Sean . In addition, she is a respected avant-garde artist whose eclectic, dissonant style has influenced many punk, art-rock and new wave acts over the years. And, of course, she also is a passionate activist who has long supported such causes as peace, women's rights and environmentalism.
Age has not slowed Yoko down. She continues to release new music, and for the last few years has been performing with a new version of the Plastic Ono Band that features her son, Sean . In celebration of her birthday, the group played a concert in Berlin on Saturday. In addition, a retrospective exhibit of Ono's art dubbed Half-a-Wind Show opened on Friday at the Schirn Kunsthalle gallery in Frankfurt, Germany. The exhibition will run until May 12.
Also, Ono will be curating this year's edition of the U.K.'s annual Meltdown Festival, scheduled for June 14-23 in London. Among the stars who previously curated the event are The Kinks ' Ray Davies , David Bowie , Patti Smith and Elvis Costello .
Copyright 2013 ABC News Radio