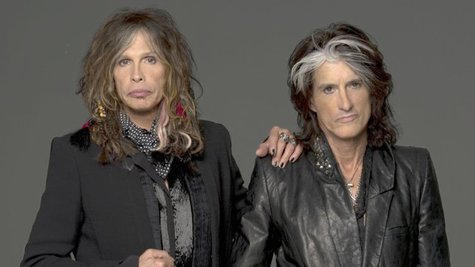 Aerosmith singer Steven Tyler and guitarist Joe Perry will receive the ASCAP Founders Award at the performing-rights organization's 30th annual Pop Music Awards ceremony, scheduled for April 17 in Los Angeles. The prestigious honor recognizes artists whose work has influenced and enriched their fellow musicians. Other music luminaries who have been acknowledged with the award include Paul McCartney , Neil Young , Stevie Wonder , Billy Joel , Joni Mitchell , Rod Stewart , James Taylor and Heart 's Ann and Nancy Wilson .
"To be recognized by ASCAP with the Founders Award is a huge achievement," says Tyler in a statement. "It is humbling for Joe and me to be honored for our music alongside the likes of Stevie Wonder, Neil Young, Paul McCartney and Joni Mitchell. It's been a life-long love affair and it's far from over."
Adds Perry, "As songwriters, it is a great honor to have ASCAP recognize Steven and me with the Founders Award. We join an incredible list of honorees and we are grateful to ASCAP for their support throughout our career."
The invitation-only event, which will take place at the Loews Hollywood Hotel, also will acknowledge songwriters and publishers whose tunes were the most played on radio and TV during 2012. The ASCAP Pop Music Awards will serve to kick off the organization's eighth annual "I Create Music" Expo, which is scheduled from April 18 to April 20. Tyler will participate in a keynote interview with veteran entertainment journalist Roger Friedman during the conference's first day.
Copyright 2013 ABC News Radio