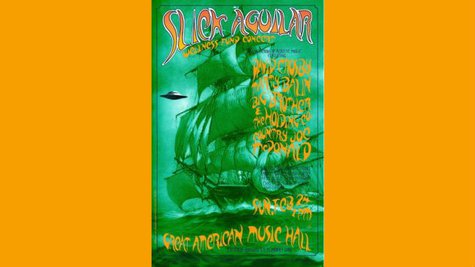 David Crosby , founding Jefferson Airplane singer Marty Balin and many other veteran rockers will gather at the Great American Music Hall in San Francisco to perform at a benefit concert for ailing Jefferson Starship guitarist Mark "Slick" Aguilar . Slick, who over the years also has played in Crosby's and Balin's solo bands, recently was diagnosed with advanced hepatitis C and is in dire need of a liver transplant.
Aguilar's doctors recently cleared him to attend the sold-out concert, and he's scheduled to take the stage during both Crosby's and Balin's set. Balin spoke recently with ABC News Radio about his long musical relationship with Aguilar and shared some details about the show.
"Slick and I played together for years, and I got him in the [Jefferson] Starship," explains the singer. "He's a great artist, plus he's a great friend."
Regarding the concert Balin says, "I'm just looking forward to it…Besides, I'll see some old friends and [get] back home to hang out with my family, so it should be a nice, fun time."
Marty reveals that for his set, he'll play for "about 40 minutes" and he'll "probably do a bunch of hits." Besides Aguilar, Balin's backing group will feature a variety of current and former Jefferson Starship members, including David Freiberg , Donnie Baldwin , Chris Smith , Pete Sears , Prairie Prince , Diana Mangano and Darby Gould .
The event also will include performances from 1960s legends Country Joe McDonald and Big Brother and the Holding Company . Asked whether their might be any onstage collaborations, Balin seemed unsure, although he suggested that it would be fun to join Crosby for a rendition of "Wooden Ships," which Crosby, Stills & Nash and the Jefferson Airplane both recorded.
Proceeds raised by the concert will go toward Aguilar's medical bills and other expenses he expects to incur related to the operation and his recovery. In addition, a number of signed collectibles are being sold at SlickAguilar.com to aid Slick's financial situation.
Meanwhile, Balin reports that he's close to completing a new solo album. "I just finished recording a bunch of new songs and almost finished [the record] up," he tells ABC News Radio. "[It] sounds really good, and hopefully I'll sell it to somebody and get it out there. If not, I'll do the 'interweb' thing."

Balin also has a few solo acoustic concerts lined up in March. He'll be performing March 2 at the Fairfield Community Arts Center in Fairfield, Ohio; March 8 at the Outpost in the Burbs in Montclair, New Jersey; and March 9 at Grounds for Sculpture in Hamilton, New Jersey.
Copyright 2013 ABC News Radio