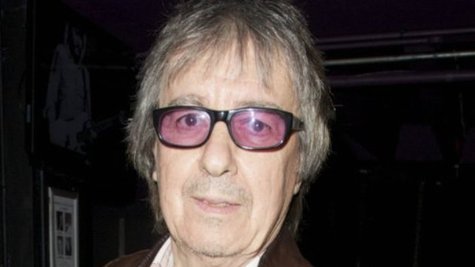 Lucky Rolling Stones fans who attended either of the rock legends' two shows at London's O2 Arena last November got to see the group's former bassist Bill Wyman performing with his old band mates for the first time in nearly 20 years. During the concerts, Wyman took the stage to play a pair of Stones classics, "Honky Tonk Women" and "It's Only Rock 'N Roll (But I Like It)," but the 76-year-old musician says he originally had expected to have a more substantial role in the shows, which were held in celebration with the band's 50th anniversary.
NME reports that in a recent interview with The Times of London , Wyman revealed that guitarist Keith Richards initially reached out to him in December 2011 and asked, "Why don't you have a jam with us?" The bassist explained that The Stones then "asked if I'd be interested in getting involved in the band for a special occasion," adding that, at first, he assumed he would "get quite heavily involved" in the events. Wyman admitted that "when they said they only wanted me to do two songs I was a bit disappointed."
He also admitted to The Times that he didn't spend much time preparing with his former band mates for the O2 concerts, while revealing that his minor role in the London shows influenced his decision not to join The Stones at their ensuing U.S. gigs in December.
"I only had one rehearsal and no sound-check so I just winged it," said Wyman. "It was great, but I didn't want to go to America for two songs. I think they understood -- well, [Stones drummer] Charlie Watts did."
In other Wyman news, a previously reported exhibition of artistically reworked versions of his photographs will open to the public at the Rook & Raven Gallery in London on Wednesday, with a private viewing taking place the day before. The exhibit is scheduled to run through March 21.
Copyright 2013 ABC News Radio