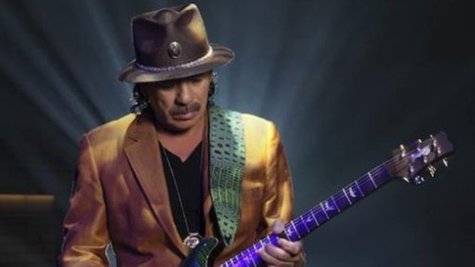 Carlos Santana says he's planning a new recording project that will feature many of the musicians who played on his band's early albums. The guitar legend revealed in an interview with Noise11.com last week that he's "invited the original members like [singer/keyboardist] Gregg Rolie from the first three albums" to participate in the project.
Carlos added, "It will be like Santana IV because we stopped at [1971's] Santana III ."
Another Santana alumnus who reportedly has been asked to take part in the new album is guitarist Neal Schon , who appeared on Santana III and 1972's Caravansarai before he and Rolie departed the group to form Journey .
Schon hinted at the project during a conversation with Noise11.com earlier last week, saying, "I've reconnected with Carlos Santana now and we have been talking about doing something together again. We've talked a lot on the telephone and I hooked up with him before Christmas. You never know what's going to happen."
Carlos, meanwhile, explained that in addition to Schon, "we have the two Mikes, [conga player] Mike Carabello and [drummer] Michael Shrieve ," adding, "I am pretty sure Gregg's going to do it. So that is pretty much everyone."
The only surviving member of the original lineup not mentioned by Santana was percussionist Jose "Chepito" Areas . Founding bassist David Brown died in 2000 at the age of 50.
Carlos says that, like Santana's early work, the new album will feature a heavy African influence. "It was a beautiful common ground for Santana to play African music," he noted. The guitarist said he planned to begin the album after he finishes his 2013 touring commitments, and expects to release it sometime next year.
Santana begins a tour of the Pacific Rim on Tuesday with a concert in Honolulu. Visit Santana.com to check out the group's complete itinerary.
Copyright 2013 ABC News Radio