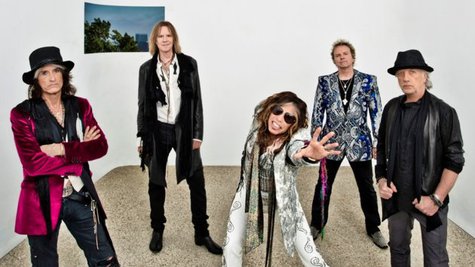 Aerosmith 's "Dream On" is arguably one of rock music's all-time great anthems, and now the song may receive a very special honor in the band's home state of Massachusetts. According to SouthCoastToday.com , a pair of Democratic representatives, Josh Cutler and James Cantwell , introduced a bill Monday in the Massachusetts legislature to have "Dream On" declared the Bay State's official rock song.
In support of their bid to acknowledge "Dream On," Cutler and Cantwell noted that Rolling Stone had chosen the tune as one of the 500 greatest songs of all time. In addition, Cantwell touted "Dream On" as a "classic ballad that's all about holding on to your dreams and seizing opportunity." He added, "Aerosmith is the best-selling American rock band of all time. No band is more closely associated with Massachusetts."
Actually, Cantwell's claim about Aerosmith being the top-selling American rock group is slightly inaccurate, as the band apparently is in second place behind the Eagles with regard to total music sales.
"Dream On" does have some competition when it comes to being chosen as Massachusetts' official rock song. Two other state reps, Martin Walsh and Robert Hedlund , recently proposed that "Roadrunner," a classic cult tune by the influential power-pop band Jonathan Richman and the Modern Lovers , be considered for the honor.
Copyright 2013 ABC News Radio