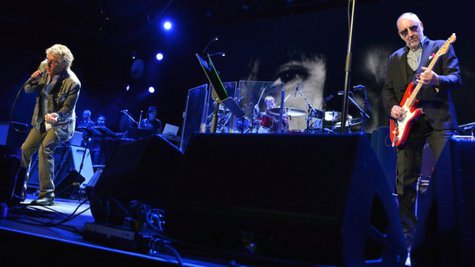 Tonight, Who fans finally will get to see the band play in Providence, Rhode Island, more than 33 years after the band's last scheduled concert in the city was canceled following the trampling deaths that occurred at the rockers' December 1979 show in Cincinnati. Among the attendees at this evening's concert will be a number of people who held on to tickets they bought to the nixed 1979 event.
Last July, Larry Lepore , the general manager for Providence's Dunkin Donuts Center, offered free tickets to tonight's show to anyone who was willing to trade in their vintage unused passes. According to Rhode Island TV station WPRI , thirty-two fans have taken Lepore up on his offer. The old tickets reportedly are being donated to the Rhode Island chapter of the Special Olympics with the expectation that the charity will auction off the collectibles to raise money for its cause.
"It has been an exciting time in anticipation of the show," Lepore tells WPRI. "And we are so pleased that the wait is over and the packed house at the [Dunkin Donuts Center] tonight will get to see these great legends of rock 'n' roll."
It was Providence's then-mayor, Vincent "Buddy" Cianci Jr. , who decided to pull the plug on the 1979 show, shortly after 11 concert-goers were trampled to death as they attempted to enter Cincinnati's Riverfront Coliseum for The Who's gig there. The Providence event was the only Who concert to be canceled after the Cincinnati incident.
The Who will wrap up its current North American tour leg on Thursday with a special benefit concert at New York City's The Theater at Madison Square Garden. The show, which also will feature Elvis Costello and his band The Imposters , will raise money for The Who's Teen Cancer America charity and New York's Memorial Sloan-Kettering Cancer Center.
Copyright 2013 ABC News Radio