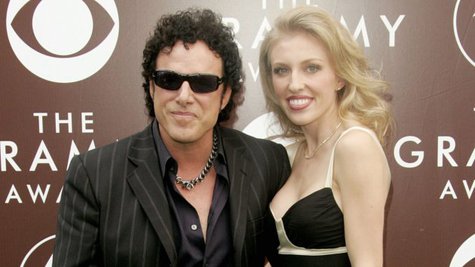 While Journey guitarist Neal Schon has been lovin', touchin' and squeezin' his new fiancée, reality star Michaele Salahi , his ex-wife Amber has been trying to get the rocker to pay her more child support for their two young daughters, Aja and Sophia . TMZ reports that the former Ms. Schon had taken her complaint to family court in Minnesota, where the former couple filed for divorce, and was seeking to have Neal's monthly payments raised from $3,000 to $5,758.90.
However, according to TMZ, a judge decreed that the original sum the guitar whiz was coughing up was adequate compensation. In making his ruling, the justice also was critical of Amber Schon, saying her request was "intended primarily to upgrade her own standard of living." The documents also show that the judge suggested that Neal's ex-wife consider trying to get a job of her own.
In addition, court papers show that Amber spent an annual sum of $7,200 for clothing, $5,760 for a storage locker, $9,600 for birthday parties and a whopping $2,400 on postage.
In a statement to TMZ, Neal Schon says, "My concern is with my children and I'm infuriated they are being exploited and used to extort money from me."
Amber was Neal's fourth wife; the couple was married from 2001 to 2008.
Copyright 2013 ABC News Radio