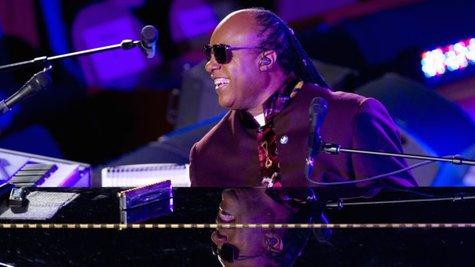 Stevie Wonder was honored with the Congressional Black Caucus Foundation 's 2013 Distinguished Individual Award on Tuesday at the Howard Theatre in Washington, D.C. The presentation took place during the CBCF's fourth annual Avoice Heritage Celebration, which pays tribute to people and organizations that promote the participation of African Americans in the legislative process.
According to Examiner.com , Michigan congressman John Conyers was on hand to present the Motown legend with the award.
In accepting the honor, Wonder noted, "It's very important that we take advantage of every moment that we have and that we come together to make a difference, because we can …and I thank you for allowing me to travel into your lives and to share with you the blessings of songs that I have been given."
In addition, several music artists gave tribute performances for Wonder, including Dionne Warwick , rapper Doug E. Fresh , R&B singer Maysa and jazz artist Frédéric Yonnet .
During her appearance, Warwick shared strong praise for Wonder, saying he "is not only special in what he does professionally, but he is special from his heart; the way that he loves, the way that he cares, the way that he gives, and most importantly the way that he shares."
In addition to acknowledging Wonder, the CBCF also honored Time Warner with the Distinguished Corporation Award and former Florida congresswoman Carrie P. Meek of Florida with the Elder Statesperson Award.
Copyright 2013 ABC News Radio