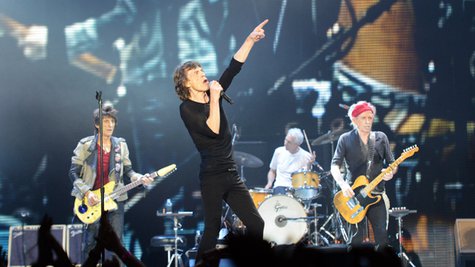 The Rolling Stones were among the big winners at the 2013 NME Awards ceremony, which was held Wednesday at the Troxy in London. The rock legends won two of the four awards for which they were nominated, including the Best Live Band honor even though the group played just two concerts in the U.K. last year. The Stones also were presented with the Best Music Film trophy for their Crossfire Hurricane documentary.
Guitarist Ronnie Wood was the only member of the band in attendance at the event. According to The Guardian , he remarked while accept the Best Live Band prize, "I feel really grateful after all the hard work that we put in -- it's got to be f**king live, baby! We've only waited 50 years for it."
Wood also appeared in a video message paying tribute to founding Smiths guitarist Johnny Marr , who was presented the evening's final honor, the Godlike Genius Award. Ronnie then took the stage with Marr to perform the Smiths classics "How Soon Is Now?" and "There Is a Light That Never Goes Out."
Visit NME.com/Awards to check out a complete recap of the awards show.
Copyright 2013 ABC News Radio