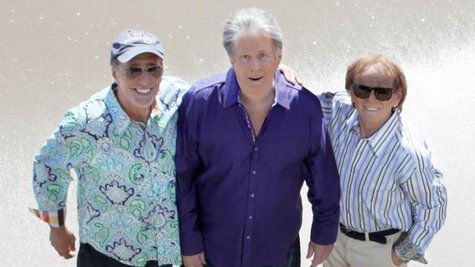 Great news for Beach Boys fans! While the group's 50th anniversary reunion tour came to an abrupt end last September, Brian Wilson has revealed that he has plans to team up again with at least some of his former band mates. The singer/songwriter has scheduled his first official tour date of 2013, a July 25 concert at the Fraze Pavilion in Dayton, Ohio, that will feature two very special guests -- The Beach Boys' Al Jardine and David Marks .
Jardine and Marks, of course, took part in last year's anniversary trek, as well as in the recording of the band's latest studio album, That's Why God Made the Radio . Fans of the group were disappointed when the group's Mike Love and Bruce Johnston opted not to extend the popular and critically acclaimed reunion outing, choosing instead to go back to touring with their pre-50th anniversary Beach Boys lineup, which doesn't include Wilson, Jardine or Marks.
No word if Wilson plans to play additional concerts with Jardine and Marks.
In related news, Marks recently released a solo CD titled The Circle Continues that features songs he co-wrote with one-time Beach Boys lyricist Stephen Kalinich . Jardine also contributes his talents to a track titled "I Sail Away."
Copyright 2013 ABC News Radio