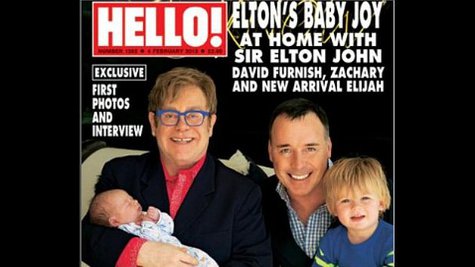 Elton John and his partner, David Furnish , just welcomed their second child, Elijah , who was born via the same surrogate who carried their first child, Zachary . And Elton says it's very important to them that the woman's identity never be revealed.
Speaking to Hello! magazine, Elton says, "She is a wonderful, kind and loving woman, who we love like a sister. We have a very close bond with her."
He adds that he, David and the woman were in "constant touch" during this latest pregnancy, "sharing all the little details that make those nine months so exciting." Elton insists, "She has given us two amazing gifts and we in turn have a duty of care to her and are fiercely protective of her anonymity."
While the news that Elton and David were expecting a second child leaked last year, and there were multiple reports about how much the woman was paid to carry little Elijah, her name has never been made public.
Copyright 2013 ABC News Radio