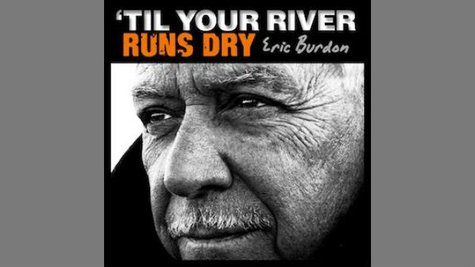 Founding Animals singer Eric Burdon 's new album, 'Til Your River Runs Dry , arrived in stores today. The 12-track collection features 10 songs co-written by the Rock and Roll Hall of Famer, in which he shares his musings on politics, war, religion, romance and the environment. The album also offers renditions of Marc Cohn 's "Medicine Man" and Bo Diddley 's "Before You Accuse Me."
Burdon is giving fans a chance to preview 'Til Your River Runs Dry online. Lyric videos for lead single "Water" and another tune, "The Devil and Jesus," can be viewed at the ABKCO label's YouTube channel , while the entire album is streaming now at RollingStone.com . The latter website has also posted an article featuring Burdon's commentary about each song on the record.
The singer will celebrate the release of 'Til Your River Runs Dry by doing a handful of in-store appearances around the country in the coming weeks, including tonight at the J&R Music store in New York City at 6 p.m. ET, and on Wednesday at The Exclusive Company in Milwaukee at the same time. Burdon will sign copies of the album and give a special performance at each event. He also will kick off a run of North American tour dates on Thursday at the Potawatomi Casino in Milwaukee. Visit EricBurdon.com to check out his complete schedule.
Copyright 2013 ABC News Radio