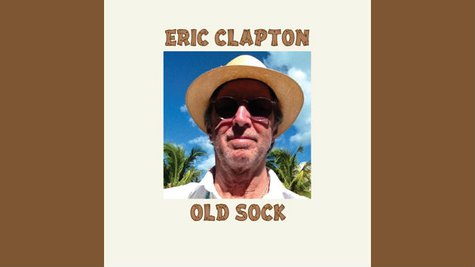 Come March 12, rock fans will have the chance to get their hands on Eric Clapton 's Old Sock . That's the name of guitar legend's upcoming album, his 21st solo studio effort and first since 2010's Clapton . The 12-track collection features two brand-new songs, "Every Little Thing" and "Gotta Get Over," as well as an eclectic selection of some of the three-time Rock and Roll Hall of Fame inductee's all-time favorite tunes.
Among the songs Clapton tackles on Old Sock are compositions by George Gershwin , Hank Snow , Leadbelly , Taj Mahal , Peter Tosh and J.J. Cale . In addition, the album features appearances by some high-profile guest musicians, including Paul McCartney , who contributes his vocal and bass guitar talents to a version of the 1930s standard "All of Me." Other stars joining Clapton on Old Sock are his frequent collaborator Cale, his old Blind Faith band mate Steve Winwood and funk/soul great Chaka Khan .
Old Sock will be released on Clapton's own Bushbranch imprint, and will be distributed in the U.S. by Surfdog Records. Slowhand will kick off his 2013 North American tour in Phoenix two days after the album's release.
Here is the full track list for Old Sock :
"Further On Down the Road"
"Angel"
"The Folks Who Live on the Hill"
"Gotta Get Over"
"Till Your Well Runs Dry"
"All of Me"
"Born to Lose"
"Still Got the Blues"
"Goodnight Irene"
"Your One and Only Man"
"Every Little Thing"
"Our Love Is Here to Stay"
Copyright 2013 ABC News Radio