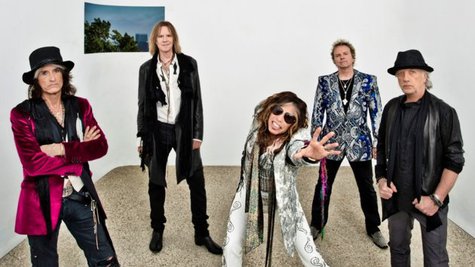 Aerosmith is offering up a selection of six of its songs for the Rock Band video game that will be available on Tuesday. The Aerosmith's Greatest Dimension Pack features four of the band's early classics, as well as a pair of tunes from the group's latest album, Music from Another Dimension!
The vintage songs included in the song pack are "Walk This Way," "Sweet Emotion," "Back in the Saddle" and a live rendition of "Dream On." The new tunes, meanwhile, are "Legendary Child" and "Lover A lot," which both were issued as singles prior to Music from Another Dimension! 's release.
The tracks are being sold for the Xbox 360, Wii and PlayStation 3 systems via Rock Band 's online music store. The six-pack is priced at $9.99, and the tunes also are available individually for $1.99 for the Xbox and PlayStation 3 platforms and for $2 for the Wii. In addition, Pro Guitar and Pro Bass upgrades can be purchased for "Sweet Emotion" and "Dream On (Live)" for 99 cents, while the latter track also features support for keyboards.
Copyright 2013 ABC News Radio