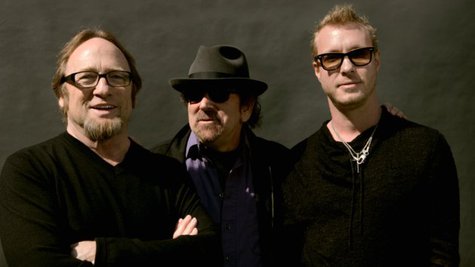 Stephen Stills fans can now get a preview of Can't Get Enough , the upcoming debut album by his blues-rock supergroup The Rides , which also features Kenny Wayne Shepherd and founding Electric Flag keyboardist Barry Goldberg . The band's rendition of the Iggy Pop and the Stooges classic "Search and Destroy" is now streaming in its entirety at SLG Music's SoundCloud page .
"This was a great accident waiting to happen, a great choice that I resisted at first," Stills says of the track. "I wasn't familiar with it, then once I played it, it was the coolest thing I ever did. I put a Keith Richards spin on it and it sounds like a really good punk band is playing it."
It was the album's producer, ex- Talking Heads keyboardist Jerry Harrison , who suggested the group record the tune, which was sung by Shepherd.
Another tune from Can't Get Enough , "Only Teardrops Fall," also is streaming online. The song, a soulful mid-tempo tune sung by Stills, is one of four originals included on the album.
Shepherd describes the track as "a real sleeper, super hooky," adding that "Stephen and I both play guitar on this and have fun trading sections."
As previously reported, the Rides project was inspired by Stills' 1968 Super Session album with late Electric Flag guitarist Mike Bloomfield and Blood, Sweat & Tears keyboardist Al Kooper . Among the other tunes featured on Can't Get Enough are covers of Neil Young 's "Rockin' in the Free World," Muddy Waters ' "Honey Bee" and Elmore James ' "Talk to Me Baby," as well as "Word Game," a previously unrecorded Stills song written while he was still a member of The Buffalo Springfield .
The album arrives in stores on August 27.
Copyright 2013 ABC News Radio