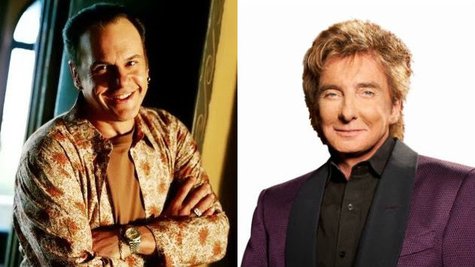 KC and the Sunshine Band were in Palm Springs, California, on Saturday for the unveiling of their very own star on the Palm Springs Walk of Stars. On hand to honor the famed disco group and its lead singer, Harry Wayne Casey , was Palm Springs resident and fellow pop legend Barry Manilow . The Desert Sun reports that while introducing Casey, Manilow led attendees in a heartfelt sing-along of the band's chart-topping hit "Shake Your Booty."
In his speech accepting the honor, which he posted on the KC and the Sunshine Band Facebook page , Casey thanked his "dear friend" Manilow for participating in the event, while also extending his gratitude to his late parents, his band mates, his group's crew, his managers and his agent, among others.
The singer saved perhaps his most heartfelt words for his fans who made it out to the ceremony. "To my fans who came out today in this desert heat along with everyone else, you too are amazing and I love you with all of my heart," he said. "Thank you for supporting us over the past 40 years and allowing me to make my dreams come true...I hope that through my music I have given you as many wonderful memories as you have given me."
KC and the Sunshine Band were in the Palm Springs area to play a show with The Village People that evening in nearby Indio, California. Members of The Village People also were in attendance at the unveiling event.
Check out all of KC and the Sunshine Band's upcoming concerts at HeyKCSB.com .
Copyright 2013 ABC News Radio