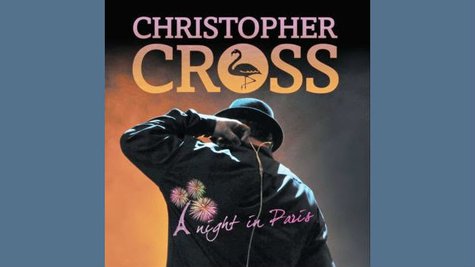 The very first live release from Christopher Cross will be sailing into stores on July 16. A Night in Paris is a two-CD/DVD set that documents an April 2012 concert by the veteran soft-rock star at the Theatre Le Trianon in the French capital.
The show, which was part of Cross' tour in support of his 2011 studio album, Doctor Faith , includes performances of 17 songs, including select tunes from that record along with such memorable hits as "Sailing," "Ride Like the Wind," "All Right" and "Arthur's Theme (Best That You Can Do)." The concert was captured in high-definition by nine cameras.
Meanwhile, Cross just launched a new U.S. summer tour Friday in Chautauqua, New York, that's scheduled through an August 24 show in Citrus Heights, California. The singer/songwriter also has a few fall shows planned: an October 8 appearance at the Norfolk County Fair in Simcoe, Canada, and a November 1-3 engagement at Disney World in Orlando, Florida.
Here is the track list for A Night in Paris :
"All Right"
"The Light Is On"
"Leave It to Me"
"Everything"
"No Time for Talk"
"When You Come Home"
"Minstrel Gigolo"
"Walking in Avalon"
"Sailing"
"Never Be the Same"
"Dreamers"
"Spinning"
"I Really Don't Know Anymore"
"November"
""Arthur's Theme"
"Ride Like the Wind"
"Say You'll Be Mine"
Here are Cross' upcoming tour dates:
7/13 -- Tower, MN, Fortune Bay Casino
7/15 -- Cape May, NJ, Stockton Goes To The Beach, Cape May Convention
7/20 -- Paso Robles, CA, Mid-State Fair
8/5 -- West Allis, WI, Wisconsin State Fair – Main Stage
8/8 -- Kettering, OH, Fraze Pavilion
8/10 -- Aurora, IL, Riverfront Concert Series
8/13 -- Morristown, NJ, Mayo Performing Arts
8/14 -- Indianapolis, IN, Indiana State Fair – Marsh Free Stage
8/15 -- St. Louis, MO, Family Arena
8/21 -- Sandy, UT, Sandy Amphitheatre
8/23 -- San Jose, CA, Civic Center
8/24 -- Citrus Heights, CA, The Sunrise Marketplace Pavilion
10/8 -- Simcoe, Canada, Norfolk County Fair
11/1-3 -- Orlando, FL, Disney World
Copyright 2013 ABC News Radio