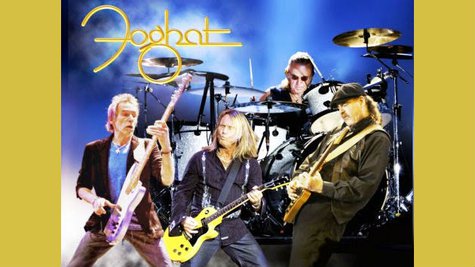 Veteran boogie rockers Foghat are back with a brand-new single titled "The Word of Rock n' Roll." The song actually is an updated version of the band's 2010 instrumental track "495 Boogie" that features lyrics written by a fan named Phil Dessinger in conjunction with a songwriting contest launched last year.
A special lyrics video for the tune, which celebrates the crazy life of a rock group on the road, can be viewed now at Foghat's official YouTube channel. The clip includes a variety of candid, fan-submitted photos of the band members clowning around and hanging out with some of their faithful followers. It also features footage of Foghat performing on stage.
"The Word of Rock n' Roll" was released Tuesday and is available for purchase now as a digital download at Amazon.com and iTunes .
Meanwhile, Foghat has more than 20 upcoming concerts scheduled this year. Here are all of the band's confirmed 2013 tour dates:
7/13 -- Marion, IN, Brandt's I-69 Harley Davidson
7/19 -- Tygh Valley, OR, Run 21 Motorcycle Rally
7/26 -- Oswego, NY, Harbor Fest Main Stage
7/27 -- Morgantown, WV, Mountainfest Motorcycle Rally
8/3 -- Decatur, IL, Decatur Celebration
8/8 -- Albany, OR, Monteith River Park
8/9 -- Tillamook, OR, Tillamook City Fair-Rodeo
8/10 -- Sequim, WA, James Center for the Performing Arts
8/16 -- Santa Cruz, CA, Santa Cruz Beach Boardwalk
8/17 -- Central City, CO, The Reserve Casino Hotel
8/18 -- Des Moines, IA, Iowa State Fair
8/24 -- Lewiston, ID, Lewiston's Hot August Nights
8/31 -- Freeport, TX, Memorial Park Downtown
9/7 -- Ellsworth, WI, SCVR Chili Feed
9/13 -- Ocean City, MD, Ocean City Bikefest
9/14 -- Lodi, CA, Lodi Grape Festival
9/21 -- Plymouth, NH, The Flying Monkey Movie House
9/28 -- Salt Lake City, UT, The Rockin' Beehive Festival
10/5 -- Las Vegas, NV, Las Vegas Bikefest 2013
10/19 -- Leon, Mexico, Motofiesta Leon 2013
12/6 -- Miami, FL, Magic City Casino
12/13 -- Chicago, IL, Copernicus Center
Copyright 2013 ABC News Radio