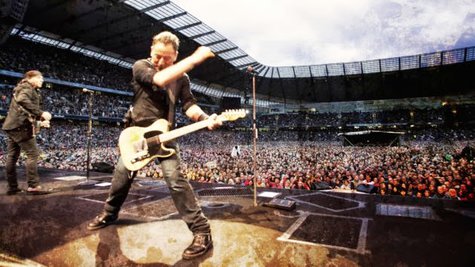 Bruce Springsteen and the E Street Band , The Rolling Stones and Fleetwood Mac are some of the top-earning tour performers so far in 2013. That's according to Pollstar , the concert industry trade publication, which has just released its mid-year list of the Top 100 Worldwide Tours.
Pollstar has ranked this year's outings based on the gross amount of money each tour generated from January 1 to June 30.
Springsteen and his group finish at #2, having brought in $103.9 million in gross revenue. The Stones follow at #3 after pulling in $87.7 million, while Fleetwood Mac come in at #9 with $58.1 million.
Other veteran pop and rock artists who've been successful road warriors during the first half of 2013 include Paul McCartney , who was #16 on the tally with $43.5 million; Elton John , who landed at #21 with $30.7 million; Eric Clapton at #24 with $28.4 million; Barbra Streisand at #29 with $25.7 million; and The Who at #22 with $23.5 million.
The top slot went to Bon Jovi , who pulled in $142.1 million after performing 60 shows during the first half of the year.
Copyright 2013 ABC News Radio