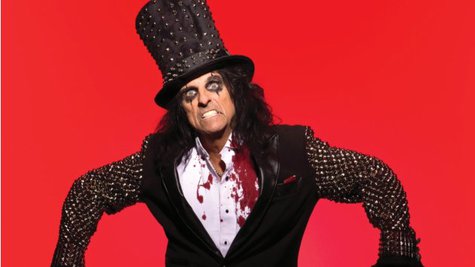 Alice Cooper is perhaps the world's most famous "shock rocker," who for decades has been treating fans to onstage theatrical displays of violence, gore, scary monsters and large snakes, not to mention plenty of hard-rocking music. However, the 65-year-old singer seems to be genuinely offended by today's crop of sincere, acoustic-picking folk rockers.
"I just feel like this whole generation maybe all need to eat a steak," Cooper declares in a video interview with Fuse. "Maybe they need to quit eating…vegetarian food and get out there and get some blood pumping in their system."
Among the bands for which Alice apparently has particular disdain are The Lumineers and Mumford & Sons .
"If I wanted to go see a great clog-dancing band, I'd go see Lumineers," he says. "Mumford & [Sons] are great at what they do, but it's not rock 'n' roll. Don't call it rock 'n' roll -- that's an offense to rock 'n' roll."
He insists that, to him, being in a rock band means that "you're an outlaw," while noting that "it doesn't mean you have to be on drugs."
Cooper adds that rock music comes from your guts and groin rather than from your brain.
"It's sexual," he maintains. "It's tribal."
In addition, he points out that "rock bands don't have accordions or lutes or flutes, unless, maybe, you're Jethro Tull ."
As for which relatively newer groups Cooper considers to be real rock bands, he cites Foo Fighters and Green Day .
Copyright 2013 ABC News Radio