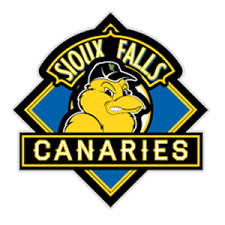 FARGO, N.D. (KWSN) - The Sioux Falls Canaries fell 11-3 to the Fargo-Moorhead RedHawks on Monday night in Fargo, losing the first game of a three-game division series.
A five-game winning streak ended for the Canaries (23-33), who fell to 10 games behind Fargo-Moorhead (33-23) in the North Division.
The first pitch two-hour-and-43-minute contest was delayed 48 minutes, and 57-minute power outage disrupted play in the bottom of the eighth inning.
It was a promising start for the Canaries when Nick Van Stratten led off the game with a triple and scored on Cory Morales' groundout for a quick 1-0 lead. But Fargo-Moorhead starter Alex Caldera (8-2) did not allow another hit until the sixth inning.
Meanwhile, an error and two walks from Canaries starter Mitchell Clegg (3-3) allowed the bases loaded in the bottom of the first inning. Keith Brachold tied the game with a single, and Tim Alberts followed with a sacrifice fly to give Fargo-Moorhead a 2-1 lead.
The RedHawks (33-23) scored four runs with two outs in the bottom of the fourth. Todd Jennings hit a two-run double, and Zach Penprase followed with a two-run home run, his third of the year, for a 6-1 margin.
The Canaries scored twice on Van Stratten's double in the seventh inning, cutting the lead to 6-3. But the Birds left the bases loaded and could not come any closer.
Two more Canaries errors opened the door to five more RedHawks run in the eighth inning before the power outage ended play.
Caldera gave up three runs in six innings for his eighth win. He yielded just four hits with two walks and seven strikeouts. RedHawks relievers Nathan Kilcrease and Joe Harris shut out the Canaries the rest of the way.
Van Stratten was 2-for-4 with two extra-base hits and two RBI. Clegg snapped a string of three straight quality starts and suffered the loss. He gave up six runs, four earned, on five hits in four innings of work.
Game two of the three-game road series against the first-place Fargo-Moorhead RedHawks at 7:02 p.m. on Tuesday, July 16. The game will be broadcast on Sioux Falls Sports Radio 1230-AM, 98.1-FM KWSN and kwsn.com.
Courtesy: Sioux Falls Canaries