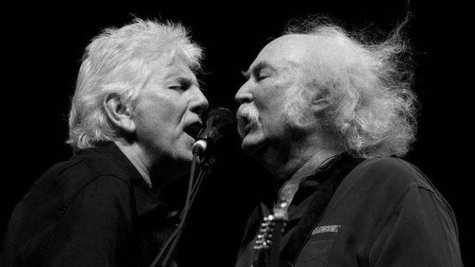 For the last couple of years, David Crosby and Graham Nash have been busy touring as part of Crosby, Stills & Nash , but the folk-rock legends are planning to hit the stage as a duo again for a series of shows later this summer. Among the Rock and Roll Hall of Famers' upcoming concerts is an August 25 benefit event at the Pasadena Playhouse in Pasadena, California, to raise money for the Five Acres nonprofit organization.
The show will celebrate the 125th anniversary of Five Acres, a Los Angeles-area charity that provides support for children and families in crisis. Crosby and Nash will play a 90-minute set at the event, with proceeds going specifically towards the organization's Permanency Fund.
"I have been so lucky in my life and been given many opportunities to be able to 'give back,'" says Nash in a statement. "Working on behalf of Five Acres is just such a wonderful opportunity. It will be a pleasure for David Crosby and I to help and keep life moving forward."
General admission tickets for the benefit cost $150, while a number of pricier VIP packages also are available. Visit PasadenaPlayhouse.org for more information.
Crosby and Nash will follow the Pasadena performance with a pair of concerts in Hawaii. They'll play the Blaisdell Performing Arts Center in Honolulu on August 27 and the Castle Theater in Kahului, Maui, on August 29. The latter gig is a benefit for the Ruth's Ride initiative, which seeks to raise money to pay for a wheelchair-accessible vehicle for Ruth Grace Benavides , a nine-year-old special-needs resident of Maui.
Copyright 2013 ABC News Radio