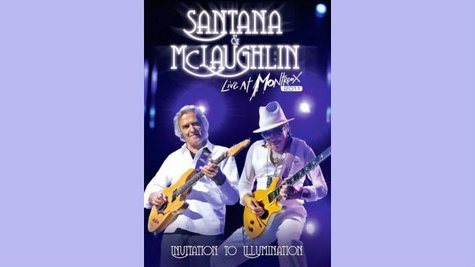 On July 1, 2011, Carlos Santana teamed up with fellow guitar legend John McLaughlin at Switzerland's Montreux Jazz Festival for a special concert in which they revisited most of the songs from their classic 1973 collaborative album Love Devotion Surrender . The show is the focus of a new video titled Invitation to Illumination -- Live at Montreux 2011 that will be released on DVD and Blu-ray on August 20.
While Santana and McLaughlin had previously performed many times at Montreux, the July 2011 event marked the first time the two had co-headlined a concert at the famous fest. Besides the songs from Love Devotion Surrender , the two virtuosos played a number of tunes by artists who have influenced their own music, including Bob Dylan 's "A Hard Rain's A-Gonna Fall," Led Zeppelin 's "Stairway to Heaven," Miles Davis ' "Right Off" and John Lee Hooker 's "Shake It Up and Go."
Accompanying Carlos and John were most of the then-current lineup of the Santana Band, including his wife, drummer Cindy Blackman Santana . Late Montreux festival founder Claude Nobs also makes a guest appearance, playing harmonica on the video's final song.
The Invitation to Illumination DVD features a list price of $14.98, while the Blu-ray will cost $19.98. Here is the full track list:
"Echoes of Angels"/Introduction
"The Life Divine"
Medley: "Peace on Earth"/"A Hard Rain's A-Gonna Fall"/"Stairway to Heaven"/"Our Prayer"/"SOCC"
"Right Off"
"Vuelta Abajo"
"Vashkar"
"The Creator Has a Master Plan"
"Naima"
"Lotus Land Op. 47, No. 1"
"Downstairs"
"Venus"/"Upper Egypt"
"Let Us Go into the House of the Lord"
"Black Satin"
Cindy Blackman Santana Drum Solo
"A Love Supreme"
"Shake It Up and Go"
Copyright 2013 ABC News Radio