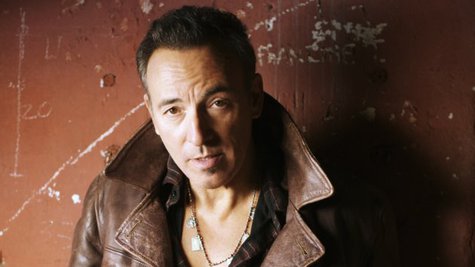 A British woman named Hannah who writes a blog about two of her great passions, Bruce Springsteen and hamburgers, got to fulfill two of her dreams this past weekend when she not only met the Boss, but also got to ask him what his favorite burger joint was. The London resident apparently traveled to Northern Ireland to attend Springsteen's concert in Belfast and, as luck would have it, the rock legend happened to be staying at the same hotel as she.
As Hannah recounts in a post on her Burgers and Bruce website , she approached Springsteen and asked if he would take some pictures with her. After he obliged, she popped the big question: "I just want to know where your favorite place to eat burgers is?"
Hannah says the Boss wasn't able to answer the question initially, noting it was a tough one, but he did admit that he was a fan of burgers. She adds that she told Bruce to think on it and if they bumped into each other again he could let her known then.
Lo and behold, Hannah ran into Springsteen again that night and finally got her answer. She says he told her he likes a "very very simple" burger, like those popular in the U.S. during the 1950s.
Hanna says he described the old-school burger he favors as "nothing like what you get now. A thin little patty, squirted with ketchup, and that's the only type of burger there was. So I still have a fondness for a good diner burger."
He then added that "Johnny Rockets does it pretty good."
During their conversation, Bruce told Hannah that he doesn't eat burgers as often as he did when he was younger because his shirt "was getting tight."
Before finishing their chat, Hannah showed him her blog, talked about the concept behind it and explained how she became a fan because her father used to rock her to sleep while playing his songs. Springsteen then wrote a note to her dad that reads, "Dear Paul, you've got a lovely, burger-eating daughter."
Hannah says during her encounter with Bruce, "he was charming and relaxed, and most of all -- he's a dude!" She adds that the conversation she had with him "is just one of the many examples of how Bruce Springsteen cares about his fans."
Copyright 2013 ABC News Radio