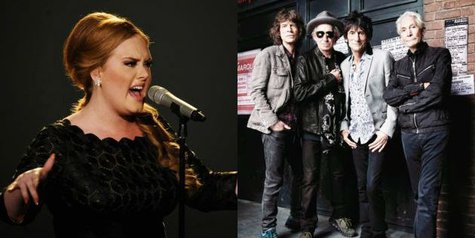 While the idea of Adele singing on stage with The Rolling Stones is pretty awesome, it's not happening. The Stones' camp is denying a report in the British tabloid The Sun claiming that the young pop superstar has been invited to join the legendary band when it performs in London's Hyde Park in July.
A Stones rep told the British newspaper The Guardian "no" when asked if there was any truth to The Sun 's report, while a rep for Adele told the paper, "I have no comment on their story."
The Sun claimed a source told them, "The Stones would love to get Adele on with them. It would be a massive coup, even for them, because she's been a bit reclusive since her son [was born]...She is the name they want to announce as their special guest -- and their invite should be special enough to get her out on stage."
The source added, "At the minute it's 50/50 that she'll do it, but Mick [ Jagger ] is quietly confident he can pull it off. They want to make the Hyde Park shows a highlight of their tour, and her appearing would make it really special."
While on the road in North America with their "50 and Counting" tour, The Stones' special guest performers have included John Fogerty , Tom Waits , Foo Fighters frontman Dave Grohl , Bonnie Raitt , Katy Perry , Taylor Swift , Sheryl Crow , bluesman Taj Mahal , No Doubt singer Gwen Stefani and country stars Keith Urban and Carrie Underwood .
Copyright 2013 ABC News Radio