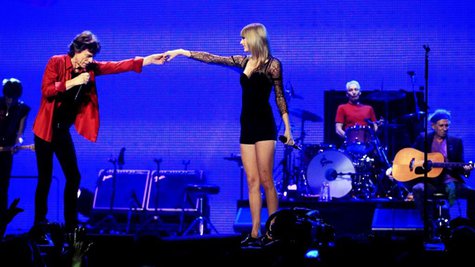 The Rolling Stones were joined on stage Monday night by Taylor Swift at the band's concert at Chicago's United Center.
The country-pop star and Mick Jagger sang a stripped-down version of "As Tears Go By" as Keith Richards strummed an acoustic guitar.
Afterward, Swift tweeted , "Filing this under 'never in my wildest dreams.' Thank you Rolling Stones for inviting me to Chicago to sing with you."
The Stones are currently out on their 50 and Counting tour, in celebration of their 50th anniversary, and have been welcoming special guests on stage throughout, including Sheryl Crow last week. Gwen Stefani , country star Keith Urban, Dave Grohl of Foo Fighters and pop queen Katy Perry are among the artists who've sung or played with the Stones on this tour.
Copyright 2013 ABC News Radio