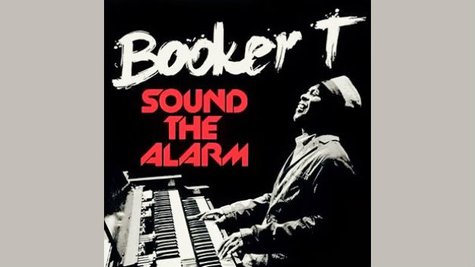 Booker T. Jones , leader and keyboardist of Memphis' legendary Booker T and the MG's , will release a new solo album later this month. Sound the Alarm , which hits stores on June 25, features the soul legend collaborating with an assortment of younger guest artists including Gary Clark Jr. , Anthony Hamilton , Estelle and Raphael Saadiq .
Sound the Alarm finds Booker T combining his vintage Hammond organ stylings with some modern sounds and production flourishes. The album includes 12 songs, all either written or co-written by Jones, that incorporate elements of such genres as R&B, funk, hip-hop and the blues.
"The sound of this record is new for me and it's something that I always like to try to do with a new project," Booker T explains in a video promoting Sound the Alarm . "All the sounds are originating from new and different sources, so it won't sound like anything I've done before, but it will sound the same."
The first single, "Watching You Sleep," is a duet between Booker T and Kori Withers , daughter of famed pop-soul singer/songwriter Bill Withers . In a new interview with Billboard , Jones says of the younger Withers, "Kori is very expressive. She's her own person, and she's a beautiful singer." Billboard.com currently is hosting an exclusive stream of the tune. You also can hear Sound the Alarm 's title track and another new song, "Fun," at the Fantasy Label Group's SoundCloud page .
You can pre-order the album now online at FastAtmoshere.com .
Copyright 2013 ABC News Radio