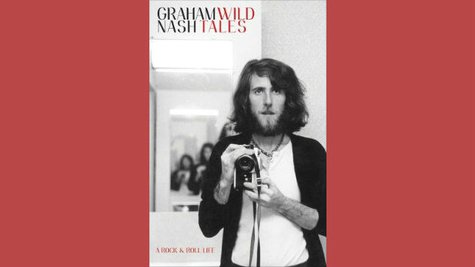 As a member of two Rock and Roll Hall of Fame-inducted bands that respectively played important parts in the British Invasion and the Woodstock era, Graham Nash obviously has some wild stories to tell. Now, the legendary singer/songwriter is ready to share his many recollections in a new autobiography titled Wild Tales , which is scheduled to be published on September 24.
The memoir traces Nash's life from his childhood in England to his tenure during the early-to-late 1960s with The Hollies and through his ongoing fruitful-yet-turbulent partnership with Crosby, Stills & Nash , both with and without Neil Young . The book also delves into many of Graham's other interests, including solo career and his commitment to political activism.
As for the "wild tales," fans can expect to read about Nash's love affair with Joni Mitchell , the ego clashes and in-fighting amongst the members of CSN, the destructive toll drugs took on some of his friends and collaborators, particularly David Crosby .
Speaking about Wild Tales recently with ABC News Radio, Graham admits it was a bit out of character for him to take on a project that required him to dwell on his past.
"I'm not the kind of man that wants to look backwards," he declares. "I really don't care about what I did yesterday. There's nothing I can do about it, right? But in doing this book…I had to look back at my life."
However, Graham adds that the process helped him to appreciate all the more the extraordinary journey he's been on.
"When I got to the end, I thought, 'My God, I wish I was him,'" he boasts. And what does he think about the memoir itself? "It's pretty good," he says. "I like it."
As for deciding what he would include in the book, Nash explains, "I was as honest as I could possibly be."
That honesty meant he didn't shy away from discussing some of the harrowing experiences Crosby went through during the low points of his battle with drug addiction.
Recalling one especially shocking story, Graham, says "He actually sold his Mercedes to a drug dealer once for the money to buy drugs and the man [later] OD'ed, and David broke into his house while the body was still there and stole his pink slip back for the Mercedes and then resold it."
Wild Tales can be pre-ordered now at various online retailers. It will be available in hardback, as an audio CD and as an eBook. Read more about the memoir at GrahamNash.com .
Copyright 2013 ABC News Radio