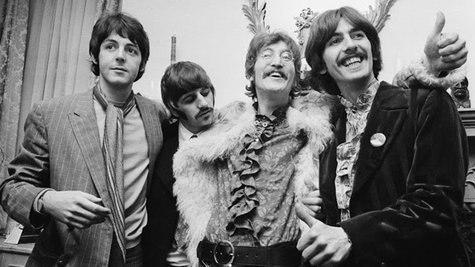 The good news is, we'll still get to see previously unreleased vintage Beatles concert footage. We're just going to have a to wait a while longer.
A film company that was planning to release a documentary entitled The Beatles: The Lost Concert , featuring footage of the Fab Four performing in Washington, D.C. in 1964, has filed a lawsuit claiming it's being prevented from distributing the film by Sony/ATV Music Publishing and the band's company, Apple Corps.
According to The Hollywood Reporter , Ace Arts says 35 minutes of concert footage in its documentary was "sold without copyright protection" and is in the public domain.
Because songs featured in films need separate music licenses, Ace Arts says it entered into negotiations with Sony/ATV, which owns certain publishing rights to Beatles tunes.
The trade paper reports Apple Corps had its own plans for the D.C. concert footage and, according to the lawsuit, "at the eleventh hour," Sony/ATV granted exclusive music licenses to Apple, which cost Ace Arts a distribution deal that would have placed the film in 500 theaters.
Ace Arts claims in its lawsuit that Sony/ATV "in conspiracy" with Apple Corps "wrongly interfered with the distribution contract by making false statements to exhibitors, theater owners and potential distributors concerning Ace's legal right to exhibit the documentary..."
Sony/ATV and Apple Corps have not yet commented on the lawsuit.
Copyright 2013 ABC News Radio