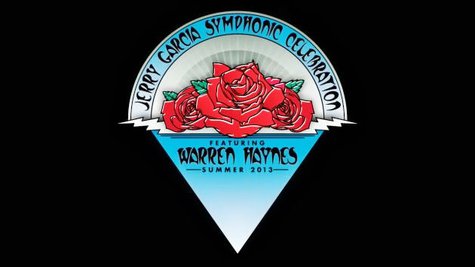 Warren Haynes has long had a strong connection to The Grateful Dead , having performed with the band's surviving members when they reunited as The Dead and toured and recorded with founding Dead bassist Phil Lesh 's side project Phil Lesh & Friends . Now, the Allman Brothers Band guitarist has hit the road as part of a unique tribute to late Grateful Dead frontman Jerry Garcia . The Jerry Garcia Symphonic Celebration Tour, which kicked off Tuesday in Pittsburgh, features Haynes performing specially arranged versions of Garcia's songs accompanied by different orchestras at each stop.
The trek was sanctioned and curated by Garcia's estate and family, and Haynes tells ABC News Radio that he jumped at the chance to participate in the musical extravaganza when he was asked.
He reveals that when he started compiling a list of songs that would be performed at the shows, he considered material that not only he "would enjoy singing and playing but, most importantly, would really be brought to life in a symphonic way."
Warren also says he contacted Lesh to ask for his help in suggesting people who could help with orchestral arrangements for Garcia's music, noting that Phil was "quite the expert in classical music and symphonic music where I'm just not."
Haynes tells ABC News Radio that he wanted to make sure that the arrangements reflected improvisational and exploratory nature of Garcia and The Grateful Dead.
"I just didn't want to see, like, a normal version of a band with a symphony," he notes. "I thought it's got to be a little bit left of center, it's got to be a little avant garde. So, choosing the arrangers and then working together on the arrangements in a way where a lot of the Grateful Dead philosophy shows up [was important]."
Keeping true to the spirit of Garcia and The Dead, Haynes promises that "the set list won't be the same from show to show…We'll try and vary it to whatever extent we can."
A total of nine dates have been confirmed for the Jerry Garcia Symphonic Celebration Tour, which is scheduled through an August 4 concert in Los Angeles. The next stop takes place Friday in Raleigh, North Carolina, and will feature Haynes accompanied by the North Carolina Symphony.
Here are all of the upcoming dates on the trek, according to JerryGarcia.com/Events :
6/20 -- Raleigh, NC, Red Hat Amphitheater (with the North Carolina Symphony)
6/22 -- Lenox, MA, Tanglewood Music Center (with The Boston Pops)
6/25 -- Philadelphia, PA, The Mann Center for the Performing Arts (with the Pittsburgh Symphony Orchestra)
6/26 -- Vienna, VA, Wolf Trap National Park for the Performing Arts (with the National Symphony Orchestra)
7/30 -- Morrison, CO, Red Rocks Amphitheater (with the Colorado Symphony)
8/1 -- San Francisco, CA, Davies Symphony Hall (with the San Francisco Orchestra)
8/2 -- San Francisco, CA, Davies Symphony Hall (with the San Francisco Orchestra)
8/4 -- Los Angeles, CA, Greek Theatre (orchestra to be announced)
Copyright 2013 ABC News Radio