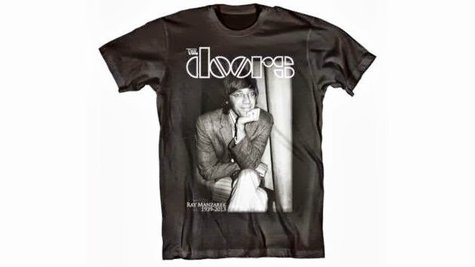 The Doors ' official website has come up with a cool way to pay tribute to the band's keyboardist Ray Manzarek , who died last month at age 74 after a battle with cancer. Fans can now purchase a specially designed T-shirt featuring a vintage photo of the legendary musician along with "The Doors" in large letters across the top of the image and "Ray Manzarek 1939-2013" in smaller letters in the lower left corner of the pic.
At least 50 percent of the money raised by sales of the shirt will be donated to the Stand Up to Cancer charity. The "Ray Manzarek Memorial Tee" comes only in black and is available in small, medium, large, extra large and extra extra large sizes while supplies last.
The shirts are expected to ship starting this week. Allow two-three weeks for delivery.
Copyright 2013 ABC News Radio