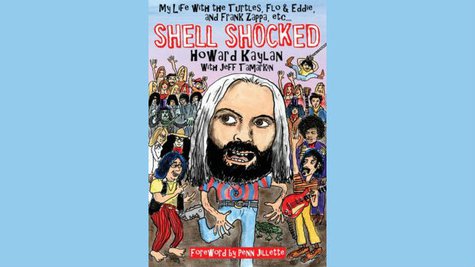 After nearly 50 years in the music business, Howard Kaylan has quite a few stories to tell and tell them he does in a new memoir titled Shell Shocked: My Life with The Turtles, Flo and Eddie, and Frank Zappa, Etc. The book takes an uncensored look at his own life and at many of the famous rock and pop stars he crossed paths with during his career as The Turtles ' lead singer, a member of Frank Zappa 's Mothers of Invention , an in-demand session vocalist with longtime collaborator Mark Volman and beyond.
Speaking about Shell Shocked with ABC News Radio, Kaylan explains, "I wanted the book to be as honest as I possibly could get it. I wanted to name names of the people who screwed with me, because I don't care. What are they going to do to me?"
Regarding his concerns over possibly getting sued for some of the less-than-flattering portrayals he shares in the book, Howard says, "I only know what my lawyer said when I asked him, 'Am I in big trouble?' He said, 'No, not if you're telling the truth.'"
One of the big stars Kaylan encountered and remembers in a particularly negative light is John Lennon . Among the stories he shares in Shell Shocked , and retells to ABC News Radio, is about the night he first met the rock legend -- in April 1967 when his friend Graham Nash brought The Turtles to a private London club and introduced the band to all of The Beatles .
Kaylan recalls how an apparently drunk or high Lennon mean-spiritedly mocked The Turtles' then-rhythm guitarist Jim Tucker , making fun of his unfashionable clothes and his unruly hairdo, then launching into a dirty rendition of Shirley Ellis ' "The Name Game" rhyming "Tucker" with a certain expletive. Howard says Lennon continued his verbal attack until tears began welling up in Tucker's eyes. Kaylan's band mate eventually fired back at Lennon, "I thought you were the coolest guy on the planet. I can't believe I met you [and] you turned out to be this ass," to which John responded, "You never met me, son. You never met me."
Howard says Tucker, who had worshipped Lennon, was so upset by the incident that "he ran out of the club, he got into a taxi, he flew back to California [shortly thereafter], he never played music again [and] I never saw him after that."
Kaylan shares a few more stories involving Lennon in Shell Shocked , pointing out, "Every time I bumped into that man in his life, he did something to negate his beautiful image to me, which is sad."
Among the many other captivating tales the "Happy Together" singer recounts happened in 1965, when The Turtles were part of the Caravan of Stars tour with Tom Jones . He remembers that while hanging out in the tour bus, Jones would tell the young female fans who gathered outside that he was going to show them his manhood, which he nicknamed "Wendell." "Oh girls, you'd love to meet Wendell, wouldn't ya?...Wendell has a smile for each and every one of you girls," he recalls the Welsh pop idol saying. "And Tom would reveal Wendell. A large, large Wendell. That's all I'm gonna say."
Music fans will find plenty other outrageous anecdotes involving sex, drugs and rock 'n' roll in Shell Shocked . "There's nothing safe about this book," Kaylan declares. "If you're caught reading it you may be in trouble."

To find out more about the memoir, visit HowardKaylan.com .
Copyright 2013 ABC News Radio