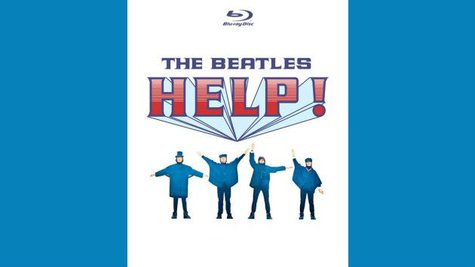 The 1965 Beatles movie Help! gets its debut release on Blu-ray and as a digital download today . The Help! disc and downlaod boast a digitally restored version of the flick and 5.1 audio, as well as a variety of bonus features.
Among the extras are a 30-minute documentary about the making of the film, interviews with cast and crew members, a short about the movie's restoration and a deleted scene, as well as trailers and radio ads. The Blu-ray also will come packaged with a booklet featuring an introduction written by director Richard Lester , plus an essay about the movie penned by Martin Scorsese .
The Fab Four's follow-up to 1964's A Hard Day's Night , Help! features the band members once again portraying themselves, as they get involved in a madcap caper focusing on a cursed ring that comes into Ringo Starr 's possession. The flick sees The Beatles travel from London to the Swiss Alps to the Bahamas while being pursued by fanatical cult members, a crazy scientist and British police. Among the classic tunes showcased in the movie are "Help!," "I Need You," "The Night Before," "Ticket to Ride," "You're Going to Lose That Girl" and "You've Got to Hide Your Love Away."
Fans can check out a couple of clips from the bonus documentary on YouTube now. The videos feature Lester, director of photography David Watkin and some of the film's other crew members sharing some candid memories about working on the movie.
Copyright 2013 ABC News Radio