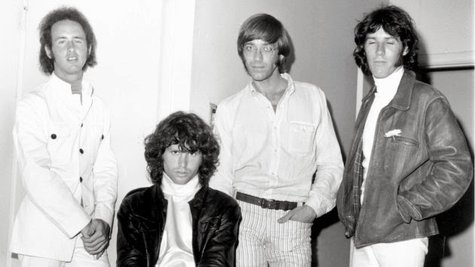 All four Doors members are featured on a new song by rapper Tech N9ne [pr: nine] titled "Strange 2013" that will be included on his upcoming album, Something Else , due out July 30. News about the collaboration first emerged back in February 2012, when Tech N9ne and producer Farid "Fredwreck" Nassar posted Twitter messages about the sessions for the track. Now, more details about "Strange 2013" have been revealed in a new behind-the-scenes video that can be viewed online, as well as in a new RollingStone.com article.
"Strange 2013" basically is an update of The Doors' 1967 tune "Strange Days," and includes new performances from keyboardist Ray Manzarek , guitarist Robby Krieger and drummer John Densmore , as well as previously recorded vocals by late singer Jim Morrison . RollingStone.com reports that Tech N9ne originally had planned to record a new rendition of "People Are Strange," but changed his mind after Krieger suggested "Strange Days" might work better because it had "more of a driving beat."
In the video, Tech N9ne, a longtime Doors fan, says of recording the track, "It was a beautiful experience being able to work with the people who actually inspired me to come up with the name of my label, Strange Music. Without 'People Are Strange' or 'Strange Days,' there wouldn't be a Strange Music."
The rapper adds, "It was…perfect being in the same room creating music" with his heroes. He also points out some of his favorite highlights from the sessions, which included hearing "a lot of stories from Robby Krieger, [laughing] with John Densmore and [drinking] Pinot Noir with Ray Manzarek."
Summing up his feelings about collaborating with the rock legends, Tech N9ne says, "I'm so proud to be a part of it. Just because I was inspired by them didn't mean that it was written in blood that I'd ever work with The Doors. Who woulda thunk it? A hip-hop artist, you know what I mean? But, it happened and it was all meant to happen."
The video also features footage capturing Manzarek, Krieger and Densmore in the studio, including a segment where Ray discusses The Doors' onstage setup and how they used to play concerts without using monitors.
Tech N9ne's Something Else is available for pre-order now at StrangeMusicInc.net .
Copyright 2013 ABC News Radio