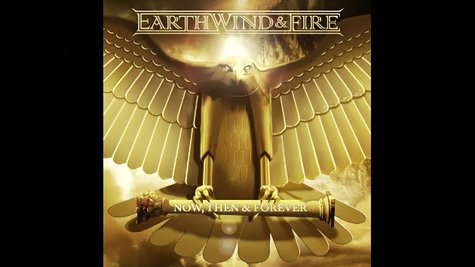 Earth, Wind & Fire have announced plans to drop a new album this fall. The upcoming effort, titled Now, Then & Forever , will be available on September 10 , and fans can check out their funky new single, "My Promise," via a newly-launched official website for the highly anticipated release.
The 10-track disc marks the legendary group's first studio effort in eight years. For a limited time, fans who pre-order Now, Then & Forever will be able to get their names customized on the album's physical packaging.
"The Now, Then & Forever album is really about the legacy of Earth, Wind & Fire," says co-founding member Philip Bailey . "The spirit of the band has always been about uplifting the consciousness of humanity. There's a hope that this Earth, Wind & Fire music will go on forever."
In related Earth, Wind & Fire news, the band is planning to hit the road later this year to promote their funk/rock/soul/jazz-inspired project. The tour begins September 6 in San Diego and is plotted out through a November 1 concert in Knoxville, Tennessee.
Here's the Now, Then & Forever track list:
"Sign On"
"Love Is Law"
"My Promise"
"Guiding Lights"
"Got to Be Love"
"Belo Horizonte"
"Dance Floor"
"Splashes"
"Night of My Life"
"The Rush"
Here are Earth, Wind & Fire's confirmed tour dates:
9/6 -- San Diego, CA, San Diego Civic Theatre
9/8 -- San Jose, CA, Nob Hill Masonic Center
9/11 -- San Francisco, CA, to be announced
9/13 -- Los Angeles, CA, Hollywood Bowl
9/14 -- Los Angeles, CA, Hollywood Bowl
9/15 -- Los Angeles, CA, Hollywood Bowl
9/18 -- Morrison, CO, Red Rocks Amphitheatre
9/20 -- Chicago, IL, Chicago Theatre
9/21 -- Chicago, IL, Chicago Theatre
9/22 -- Cincinnati, OH, Horseshoe Cincinnati
10/1 -- Fayetteville, NC, Cumberland County Auditorium
10/6 -- Dallas, TX, Verizon Wireless Theatre
11/1 -- Knoxville, TN, Tennessee Theatre
Copyright 2013 ABC News Radio