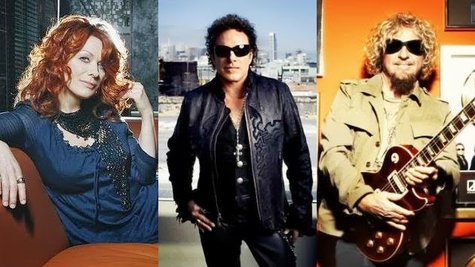 Heart 's Nancy Wilson and Journey 's Neal Schon are among the many stars who'll be featured on Sammy Hagar 's upcoming studio album, which is due out on September 24. Sammy Hagar and Friends will include a mix of covers and original songs that, in addition to rock, will find the one-time Van Halen singer exploring blues, pop and country sounds.
Other well-known musicians appearing on the album include ex-Van Halen bassist Michael Anthony , Red Hot Chili Peppers drummer Chad Smith and guitar virtuoso Joe Satriani , who all play with Hagar in the supergroup Chickenfoot ; rap-rocker Kid Rock ; country singer Ronnie Dunn ; Hagar's longtime backing group The Wabos ; and Dennis Carmassi and Bill Church , fellow surviving members of Sammy's former band Montrose .
Wilson contributes to a new song titled "All We Need Is an Island," while Schon lends his talents to a tune called "Going Down" that also features Anthony and Smith. In addition, Sammy Hagar and Friends also includes a rendition of Bob Seger 's "Ramblin' Gamblin' Man."
Prior to the release of the album, Hagar will hit the road on the "Four Decades of Rock" summer tour, which will celebrate Sammy's 40-year music career. The trek is mapped out from a July 26 show in Tucson, Arizona, through a September 7 concert in San Francisco. Various musicians that have collaborated with the Red Rocker over the years, and are featured on his new album, will join him to perform at select dates, including Anthony, The Wabos and Carmassi and Church. You can check out all of Hagar's upcoming tour dates at RedRocker.com .
Copyright 2013 ABC News Radio