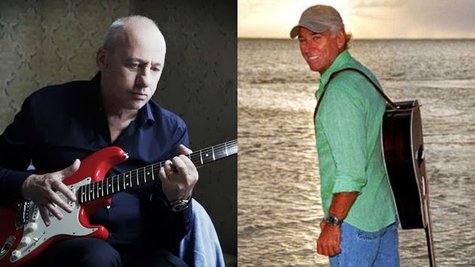 Jimmy Buffett 's upcoming album, Songs from St. Somewhere , reportedly is set to arrive in stores on August 20, and will feature some guest guitar work from former Dire Straits frontman Mark Knopfler . According to a message on the British rocker's official Facebook page, he'll lend his talents to a tune titled "Oldest Surfer on the Beach," which he also wrote.
It's not the first time Buffett has worked with Knopfler. He also tapped Mark to play guitar on a version of the 2004 Knopfler song "Whoop de Doo" that Buffett covered for his 2006 album Take the Weather with You .
Buffett has a bevy of upcoming U.S. dates scheduled as part of his ongoing Songs from St. Somewhere trek. Knopfler, meanwhile, currently is touring Europe in support of his latest solo effort, Privateering .
Copyright 2013 ABC News Radio