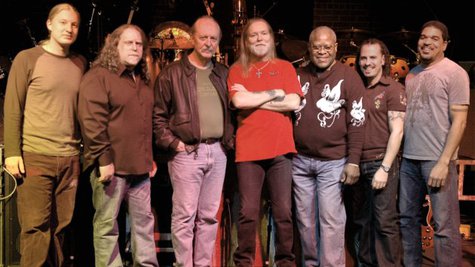 On Friday night, The Allman Brothers Band will take over the Beacon Theatre for the start of the 2013 edition of its annual March residency at the famous New York City venue. Founding drummer Butch Trucks tells ABC News Radio that not only is the group playing better than ever, but all of the members are in great physical shape too.
"Rehearsals have been amazing," enthuses the 65-year-old musician. "Everybody's gotten skinny…We calculated it: Between me, [guitarist] Warren [ Haynes ], Bert Holman [the band's manager] and [frontman] Gregg [ Allman ], we've lost [percussionist] Marc Quiñones …Everybody's coming in thin, lean and ready to go."
Trucks also reports that The Allmans will be treating fans to a slew of new songs that they're preparing for their Beacon shows.
"We've already worked up seven new covers and two brand-new songs, Allman Brothers tunes," he reveals, while noting that the latter are the first new original songs the band has done "in about four years."
Butch says one of the new numbers offers "space for us to really just stretch out and jam." He compares it to the Allman Brothers classic "Whipping Post" or their 1994 tune "Back Where It All Begins." Trucks also reveals that an additional pair of new original compositions could make their way into the band's set before the Beacon run comes to an end on March 17.
Meanwhile, Trucks says he was hit hard by the death earlier this week of guitarist Dan Toler , who was a member of The Allman Brothers Band from 1978 to 1982, and also played with Gregg Allman's and ex-ABB guitarist Dickie Betts ' solo groups. Dan passed away Monday at the age of 64 after a battle with Lou Gehrig's disease.
"Danny was always the nicest guy, with a great sense of humor and a lot of talent," recalls Butch. "He and I just always got along. I mean, I really, really liked him…The world is a lesser place without him."
Regarding whether the group might pay tribute to Dan Toler during the Beacon residency, Trucks says, "I'm sure we'll do something, but we haven't talked about it yet."
Of course, The Allmans traditionally welcome a variety of special guest performers during their Beacon run, and this year will be no different. Trucks won't divulge too much information about which stars might be hitting the stage with his group, although he did say that The Juke Horns and North Mississippi All Stars members Cody and Luther Dickinson would each show up for "a couple of nights."
The Dickinson brothers also will be joining Trucks and Allmans Brothers bassist Oteil Burbridge at a special music camp called the Roots Rock Revival that will take place June 3-7 in Big Indian, New York. The event will feature lectures, classes, jam sessions and concerts, and Trucks promises that other members of his group will be making special guest appearances.
For more information about The Allmans' Beacon shows and their other 2013 plans, visit AllmanBrothersBand.com .
Copyright 2013 ABC News Radio