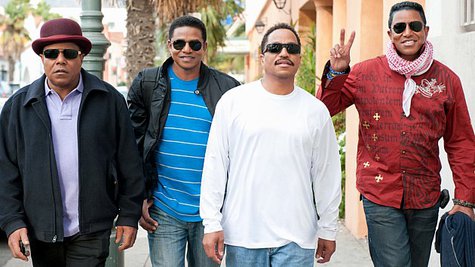 The members of pop sensations One Direction weren't even born during heyday of The Jacksons -- heck, their parents weren't even born -- but the legendary Motown group says they see a lot of parallels between themselves and the British boy band, and would like to collaborate with them.
Speaking to the British paper The Daily Star , the oldest Jackson brother, Jackie Jackson , says female fans used to scream for them back in the day, just as they do now for One Direction. "Those boys remind me of ourselves so much when we were younger. I got some songs for them to record too so we'll be in touch real soon," says Jackie.
The Jacksons are now touring the U.K. for the first time in 28 years, and Jermaine Jackson tells the paper that they feel their late brother Michael 's presence at every show. "I see him next to me on stage every night," says Jermaine, while Tito adds, "We do it for Michael every show...His spirit is alive."
The brothers also revealed that the late King of Pop's kids seem to be following in his footsteps. "[Michael's daughter] Paris plays guitar -- Tito showed her some licks," says Jackie. "I heard her play the other day and I was impressed. She's really serious about it and she's learning fast."
Copyright 2013 ABC News Radio