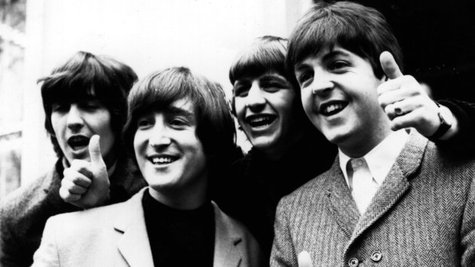 Recently-uncovered photos of the Beatles during their historic 1965 Shea Stadium concert are set to hit the auction block later this month.
The lot of 61 snapshots -- and most importantly, their copyright -- will be sold to the highest bidder on March 22nd in Stockport, England, less than an hour from the band's hometown of Liverpool. That date also marks the 50th anniversary of the release of the Beatles' debut album, Please Please Me .
The black and white photos -- ten of which can be seen online at the Daily Mail UK site -- were snapped by amateur photographer Marc Weinstein and show the fresh-faced quartet in the middle of a sea of adoring fans, at the beginning of their hugely successful U.S. tour.
The collection of pictures is expected to fetch £15,000, or roughly $22,500.
In other Beatles auction news, the Gibson guitars website reports that doodle sketches by a teenaged Paul McCartney sold for roughly $5,700 last week. The online PFC Auctions house sold the sketches, which consisted of a series of faces with different expressions on a single sheet of paper measuring approximately 12-1/2 by 8 inches. They were completed by McCartney when he was a student at the Liverpool Institute High School for Boys in the late 1950s.
Copyright 2013 ABC News Radio