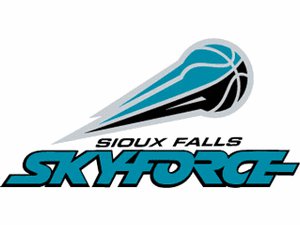 Sioux Falls, S.D. (KWSN)- –The Idaho Stampede defeated the Sioux Falls Skyforce 109-102 Tuesday night. Sioux Falls led by as many as 18 points in the second half but Idaho outscored them 37-19 in the fourth quarter to pick up its second straight road win.
The score went back and forth in the opening quarter as Sioux Falls (21-17) led 28-27 after one. Sioux Falls went up by 13 points (55-42) in the second quarter following a steal and slam dunk from Damian Saunders. Andre Barrett made a lay-up with 2.4 seconds left in the first half to give the home team a 58-47 halftime lead.
Sioux Falls opened the second half on a 7-0 run to push the lead to 65-47. Sioux Falls took an 83-72 lead into the final stanza. Idaho (12-24) went on a 12-2 run to start the fourth quarter and took an 86-85 lead on a long jumper from Coby Karl. Saunders hit a 3-pointer with 4:48 to go to push the lead back to four points (97-93) but Karl responded with a 3-pointer and Justin Holiday made a jumper to give Idaho a one-point lead (98-97) with 3:47 to go in the contest. Saunders hit another 3-pointer to tie the game at 100 apiece but Karl hit two more clutch shots to give Idaho a 105-100 lead and they held on for the win.
Karl finished with 18 points, four rebounds and five assists. Justin Harper posted 18 points and five rebounds while Justin Holiday recorded 16 points, seven rebounds and five steals.
Demetris Nichols scored a game-high 26 points and Saunders added 23 points and eight rebounds off the bench. Barrett had a solid home debut with 16 points, six rebounds and 15 assists
Sioux Falls visits Santa Cruz Friday night at 9 p.m. CT.
Courtesy: Brett Hansen - Sioux Falls Skyforce