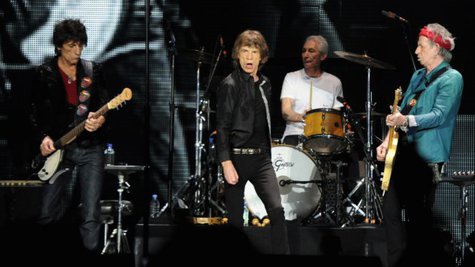 Rumors about 2013 tour plans for The Rolling Stones are multiplying.
On Tuesday Examiner.com published a report claiming that the Stones were scheduling an 18-concert arena tour to begin later this spring. According the report the trek would include multiple-night stands in some cities.
However, none of this is confirmed. Asked to comment on the Examiner report, the Stones' publicist told ABC News Radio, "When and if [the band] has something to say, they will announce it."
Meanwhile Serge Pizzorno of the alternative rock band Kasabian seemed to suggest this week that the Stones would, in fact, be headlining the U.K.'s Glastonbury festival this summer.
In an interview on Wednesday with MTV in the U.K. about his own band's performance at London's Hard Rock Calling festival in June, Pizzorno said, "I hope our is the most talked about performance of the weekend, but that would be a miracle because The Rolling Stones are playing Glastonbury."
Both Mick Jagger and Ronnie Wood have publicly discussed the possibility of the Stones playing Glastonbury in recent weeks.
Despite the talk, concert industry trade publication Pollstar notes that the Stones have yet to confirm a single date never mind a full slate of arena shows.
Copyright 2013 ABC News Radio