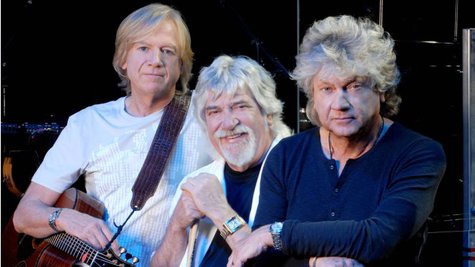 The Moody Blues kicked off a brief new U.S. tour on Friday in Albuquerque, New Mexico. The trek is plotted out through a March 17 show in St. Petersburg, Florida, after which the band will host its inaugural cruise event, The Moody Blues: The Voyage .
Moodies singer/guitarist Justin Hayward says fans coming out to the concerts likely will get to hear some tunes that the band rarely has played live before.
"We're rediscovering the Moody Blues catalog," Hayward tells ABC News Radio. "Rediscovering all those songs that we only spent a day or two days with in our lives, when we recorded them. We recorded them…and we never ever played them again. Never tried them on stage."
Among the tunes the group recently has brought into its set is "You and Me," a gem Hayward co-wrote with drummer Graeme Edge that appeared on the 1972 album Seventh Sojourn . Justin says that although he barely recalls recording the track, "playing it now, it's a real pleasure." Other lesser-known songs that The Moodies are performing live include Hayward's "Driftwood," from 1978's Octave , and singer/bassist John Lodge 's "Nervous," from 1981's Long Distance Voyager .
One more tune that the band has resurrected is "Say It with Love," a Hayward composition that was the first track off The Moody Blues' 1991 studio effort, Keys of the Kingdom . Justin notes that the tune "didn't work that well" when the group initially played it in concert, "but we've gone back to the record and really thought, 'Now what is it about the record that we really liked?'"
Hayward says The Moodies now have a few tunes that they alternate from show to show, so that "one night will be just a couple of songs different from the next night."
Something fans probably won't be hearing during The Moody Blues' tour is any songs from Hayward's just-released solo album, Spirits of the Western Sky .
Justin tells ABC News Radio that while he'd be glad to play some of his new solo material with the group in concert, "you'd have a couple of other guys that probably wouldn't be too pleased about that." He adds that, besides, "There's so much Moody Blues stuff that is there to be done."
After The Moodies host their Caribbean cruise, which runs from March 25 through March 30, the band has a series of dates in the U.K. and mainland Europe lined up for June. Hayward also reports that he expects the group to return to North America later in the year.
Says Justin, "There's certainly a lot of promoters that seem to like the band and want to go with the band through September and October, so I can see that happening."

Visit MoodyBluesToday.com to check out all of the band's confirmed tour dates.
Copyright 2013 ABC News Radio