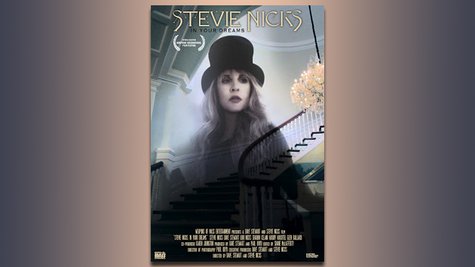 After playing at a number of top film festivals, Stevie Nicks ' documentary In Your Dreams is finally getting a theatrical release.
The movie, which chronicles the creation of Nick's most recent solo album, also called In Your Dreams , will open in more than 50 theaters across North America on April 2. Tickets and theater details are available at InYourDreamsMovie.com.
Stevie, who collaborated with ex- Eurythmic Dave Stewart on her album, called its creation "the greatest year of my life," and that's what compelled her to share the process with her fans. The film follows Nicks and Stewart as they record the album in her Los Angeles mansion with a revolving cast of musicians and friends, while also enjoying a slate of activities that include dinner parties, costume parties, tap dancing and more. Cameos by Reese Witherspoon , Mick Fleetwood and a variety of different animals help keep things lively.
Also featured in the In Your Dreams film is a look into the Fleetwood Mac singer's personal scrapbook of her childhood and family life, as well as an array of backstage and performance shots taken over the last 35 years.
Stevie's new tour with Fleetwood Mac kicks off April 4. The movie also will screen this Thursday at the SXSW Film Festival in Austin, Texas, and on April 15 at the Toronto International Film Festival. Nicks will be in hand for Q&A sessions in both Austin and Toronto.
Copyright 2013 ABC News Radio