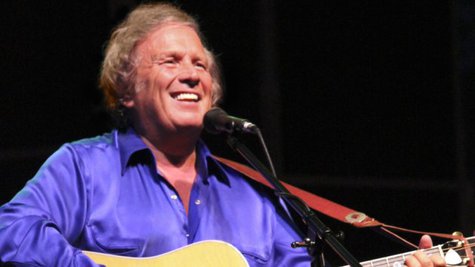 Don McLean and Cyndi Lauper are among the latest stars to join the impressive lineup of the upcoming farewell concert for country legend George Jones .
The 81-year-old Jones, considered one of the greatest country singers in history, will be staging his final concert at Nashville's Bridgestone Arena on November 22. Among the many other luminaries on the bill are soul great Sam Moore and rap rocker Kid Rock , along with dozens of country stars, including Garth Brooks , Kenny Rogers , Charlie Daniels , Randy Travis , Tanya Tucker , Crystal Gayle and Billy Ray Cyrus .
Explaining why McLean was invited, Jones said that he and the "American Pie" singer "first met in the '70s, here in Nashville, and I love his singing, his songwriting, and I know his performance will be just as special as when I first saw him sing." As for Lauper, Jones revealed, "People may not know this, but I have been a fan of Cyndi's since I first saw her years ago at the Grammy awards." He added, "What a thrill it was to hear she will be part of this final celebration."
More performers will be added to the concert's lineup in the coming weeks.
Copyright 2013 ABC News Radio