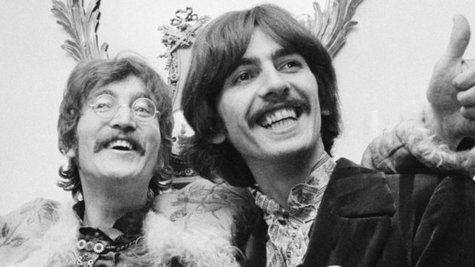 The U.K.'s Heritage Foundation unveiled one of its commemorative blue plaques in London on Sunday, honoring late Beatles members John Lennon and George Harrison . The marker was installed at 94 Baker St., which was where the Fab Four's long-closed Apple Boutique clothing store was located.
According to the BBC , Rod Davis , who played banjo in Lennon's pre-Beatles band The Quarrymen , took part in the unveiling ceremony. The plaque replaces a similar one that had been located at the same site but which did not include Harrison's name.
The new plaque's inscription reads: "John Lennon M.B.E. 1940-1980 George Harrison M.B.E. 1943-2001 worked here." M.B.E. stands for Member of the Most Excellent Order of the British Empire, an honor that Queen Elizabeth II bestowed on all of the Beatles back in 1965 .
The Apple Boutique was an early venture of The Beatles' Apple Corps company. It was open from December 1967 until July 1968.
Copyright 2013 ABC News Radio