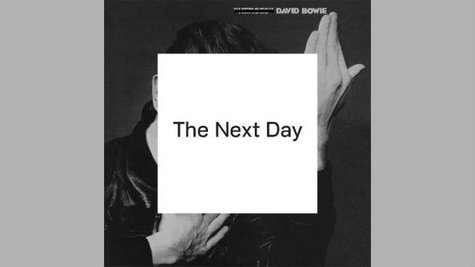 David Bowie 's new album, The Next Day , has made a big splash across the Atlantic. The disc has topped the U.K.'s Official Album Chart after selling more than 94,000 copies during its first week in stores. The Next Day becomes the Thin White Duke's first release to reach #1 on the British albums tally since Black Tie White Noise did so back in 1993.
The Next Day , Bowie's first collection of new tunes in nearly a decade, also has the distinction of having the best debut week sales of any album released in the U.K. this year. Finishing right behind Bowie on the Official Album Chart this week is Bon Jovi 's latest, What About Now , which sold about half the number of copies as The Next Day . By the way, Billboard.com reports that in the U.S., the positions of those two albums are expected to be reversed on this week's Billboard 200 tally, which will be revealed on Wednesday morning.
In other Bowie news, a new exhibition focusing on the 66-year-old rock legend will open to the public this Saturday at London's Victoria & Albert Museum and it's one hot ticket. The BBC reports that more than 42,000 advance tickets have been sold for the Davis Bowie Is retrospective, making it the fastest-selling exhibit in the history of the facility.
The exhibition will feature more than 300 items from the Rock and Roll Hall of Famer's archives, including stage costumes, handwritten set lists and lyrics, personal sketches, diary entries and more. The display also will boast films, music videos and photographs.
According to Women's Wear Daily , a private opening event is scheduled for Wednesday night and actress Tilda Swinton , who appears with David in the video for his new song "The Stars (Are Out Tonight)" will be impersonating the press-shy singer at the bash. It's not known if Bowie himself will attend the party.
Copyright 2013 ABC News Radio